I believe that those who work in the office have a deep understanding that not only does the added boredom of work make people feel upset. As office workers, they mainly deal with various documents and computers in the office during working hours. These people need a peaceful, warm, comfortable and relaxed office environment to improve work efficiency. Therefore, the environment of the office is very important. If you place green plants in the office that are pleasing to the eye and mind, they can effectively relieve the mood.
Many office workers choose to plant greenery in the office, which not only soothes their mood but also effectively reduces computer radiation and protects their eyes. After all, the planting conditions in the office are limited, how can suitable planting be carried out? Is hydroponic planting suitable for offices?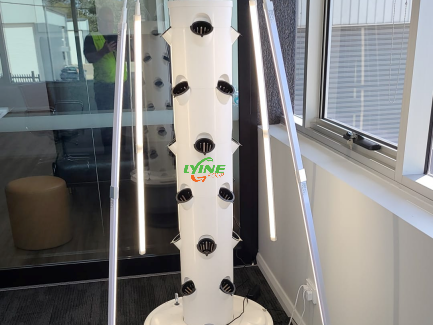 Undoubtedly, office hydroponics is more suitable than traditional soil planting! Green apple is one of the best, it is a plant that can be both hydroponic and soil cultured, and hydroponic green apple is very suitable for office workers. Because green apples are raised in water, there is no hassle of soil splashing out frequently. It only needs to change some water in a timely manner and won't get its hands dirty. It will not affect hygiene just because it needs to be replaced with soil, and hydroponic green apples are clean and convenient to take care of.
After all, office planting is not a specialized planting base, leaving limited space for planting. A professional hydroponic planting system can perfectly solve the problem of limited space. The 4p6 Aeroponic Tower System is a planting system that is particularly suitable for small-scale planting. This type of system fully utilizes space. It can be placed in any idle position and can be planted with a wide range of crop types. In the office, we can use it to cultivate flowers, and at home, it can grow various types of vegetables, such as lettuce, spinach, different types of kale, cabbage, and other small plants. This system is very effortless and requires almost no maintenance.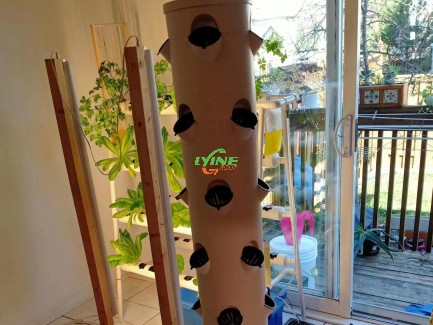 What are the advantages of using Aeroponic Tower System to decorate an office?
1. Clean and hygienic. Plants grow in a water circulation system, clean and even without soil constraints, they can still survive normally.
2. Purify the air. The ability of plants to purify air is evident, as they can effectively adsorb harmful substances such as nicotine and formaldehyde.
3. Not easily infested is also one of the advantages. By not using traditional soil, the erosion of pests in the soil can be avoided. Without contact with soil, vegetables have a more guaranteed quality and a lower likelihood of being infected with diseases and pests. For flowers and plants, they can grow more beautifully without the erosion of pests and diseases.
4. It can bring a joyful mood to people, and watching the small things grown by oneself grow up is very fulfilling.
After discussing so many benefits of hydroponic flower cultivation, hydroponic culture is indeed very suitable for indoor flower cultivation, especially in the office. People who feel that soil culture is not neat enough but also very fond of raising flowers have solved many problems with hydroponic culture. However, hydroponic culture also needs to pay attention to some issues, and it is difficult to keep the potted plants well, especially if the water requirements are not well grasped, which can easily lead to the death of the potted plants. Choosing the 4p6 Aeroponic Tower System can help you have a lot of fun growing in the office.