Do you know who planted the Guinness World Record strawberry? It was an Israeli friend who grew the largest and heaviest strawberry in the world. Let's take a look at how to grow strawberries to produce high yields.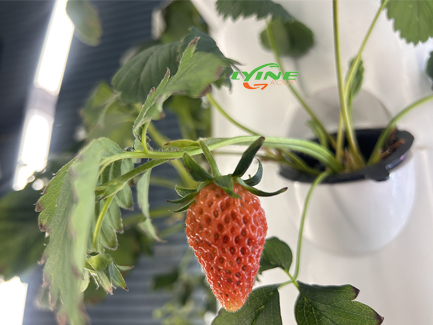 Growing strawberries in a greenhouse
Most strawberries in Israel are grown in
greenhouses
, with an annual output of about 30,000 tons, because Israel's advanced automated greenhouse technology can make strawberries more productive. In addition, the conditions in the greenhouse allow the strawberries to be protected from outside weather and climate.
There are many deserts in Israel and lack of water, but friends in Israel are very creative in using various technologies to save water resources, such as drip irrigation technology, which is inseparable from the cultivation of strawberries.
In Israel, many people use
Dutch buckets
to grow tomatoes. Substrate cultivation plus hydroponics, drip irrigation technology can save water more, and the use of substrate will make tomatoes grow sweeter.
Growing Strawberries Indoors Vertically
If you don't want to grow strawberries on a large area and want to grow and eat them indoors, then you can use a hydroponic tower system. Our
4P6 hydroponic tower system
can grow 24 strawberries, equipped with 4 LED grow lights to provide light for growing strawberries indoors. In addition, water and nutrient solution can be stored in the bucket, which can provide nutrition for the growth of strawberries. Its appearance is also very beautiful, and it is also a beautiful scenery at home.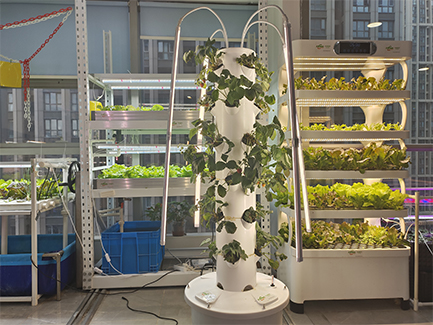 Of course, in addition to growing strawberries, the hydroponic tower system can also grow a variety of hydroponic vegetables, such as Italian lettuce, purple leaf lettuce, kale, purple cabbage, parsley and mint. Some of our customers in Israel wanted a distribution agent because this hydroponic tower system really works.
Strawberry Gully planting strawberries
In addition to the tower system that can grow strawberries, the strawberry gully is also very useful for growing strawberries.
Strawberry gully is a planting form of matrix cultivation. It adopts the vertical planting method. This method saves land space when planting, and saves manpower and material resources in the process of planting. The strawberry planting trough is composed of a fixed value cup, a cultivation pipe, a support fixing system, a nutrient solution circulation and a control system, and the strawberry trough made in this way has many advantages.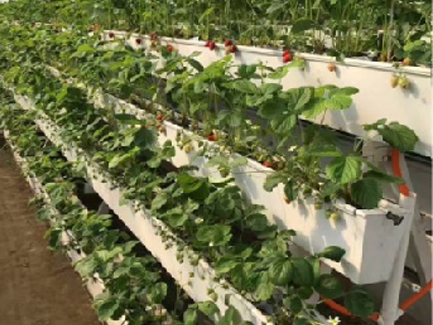 1. The strawberry gully can increase the planting density, which can increase the yield. In addition, using strawberry gullys for planting, the fruits can be exposed to the outside, easy to pick, and improve labor efficiency.
2. The strawberry planting gully can save water, fertilizer and labor, and has less pests and diseases. Compared with traditional continuous cropping in soil, it avoids many problems.
3. The vertical planting of strawberry planting tanks can greatly expand the agricultural production space. Soil vertical hydroponic U-shaped planting groove is beneficial to realize agricultural modernization.
4. The vertical strawberry planting tank for soilless cultivation is suitable for a variety of fruits and vegetables, such as strawberries, tomatoes, cucumbers, etc.
5. Simple and beautiful, suitable for the development of urban sightseeing agriculture.
The above are some hydroponic strawberry planting methods shared with you. Based on the climate conditions in Israel, hydroponics is very suitable for use. Our Israeli customers also like our hydroponic system very much. If you are also interested, welcome to contact us connect.