Hydroponic lettuce is a very healthy vegetable because it does not require the use of soil during its growth process, but rather provides nutrients through nutrient solutions. This method can effectively reduce soil pollution and waste of water resources. In addition, hydroponic lettuce also grows faster than traditional planting methods, allowing for the harvesting of more vegetables in a shorter period of time.
The hydroponic lettuce tower is a soilless cultivation equipment that can be used for indoor or outdoor planting. It uses hydroponic techniques to immerse the roots of plants in nutrient solutions, thereby achieving growth and development. Compared to traditional soil planting, hydroponic lettuce towers have higher growth efficiency and fewer pests and diseases.
The structure of a hydroponic lettuce tower usually consists of several tower columns, each with planting holes, which are used to place a fixed crop planting basket. Multiple vegetables can be planted on the hydroponic tower system, such as lettuce, spinach, Bok choy, etc. The nutrient solution is transported through pipelines to the bottom of each tower column, and then flows into the planting basket through holes in the columns, nourishing the plant's roots.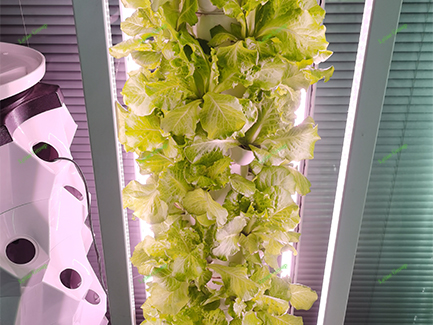 The indoor planting method for hydroponic lettuce towers is as follows:
1.Prepare lettuce seeds, nutrient solution, and hydroponic equipment.
2.Soak the seeds in warm water for approximately 12 hours before removing them.
3.Add nutrient solution and an appropriate amount of water to the hydroponic tower system, keeping the liquid level 1-2 centimeters below the root.
4.Spread the soaked seeds evenly in the planting trough, maintaining appropriate spacing.
5.Place the hydroponic tower system indoors, maintain a temperature of 20-25 ℃, and maintain appropriate lighting and ventilation.
6.Change the nutrient solution once a day, keeping the liquid level 1-2 centimeters below the root.
7.In general, it takes about 7-10 days for lettuce seeds to germinate, and the growth period is about 30-40 days. The growth cycle can be appropriately extended or shortened as needed.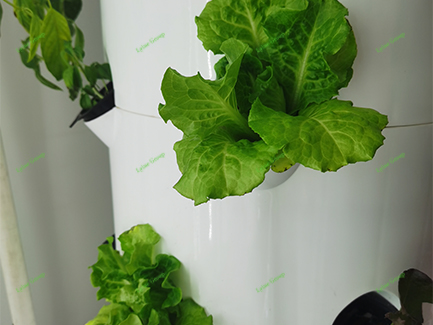 Hydroponic lettuce is a popular planting method, but the following points need to be noted when hydroponic lettuce is grown.
Firstly, it is necessary to choose lettuce varieties suitable for hydroponic cultivation, such as red leaf lettuce, cream lettuce, etc.
Secondly, attention should be paid to the selection of water quality, preferably using deionized or purified water. At the same time, attention should be paid to water temperature and lighting conditions. Generally, the water temperature should be controlled between 20 ℃ and 25 ℃, and the lighting time should be controlled around 12 hours.
In addition, it is necessary to regularly change the water quality and add an appropriate amount of nutrient solution to ensure the growth and quality of lettuce.
Finally, attention should be paid to the prevention and control of diseases and pests, and timely detection and corresponding measures should be taken.
The advantage of hydroponic lettuce towers lies not only in their soilless cultivation characteristics, but also in their wide range of application. It can be placed in outdoor places such as balconies, terraces, gardens, as well as indoor places such as kitchens and living rooms. For urban residents, this is a very convenient planting method.
The hydroponic lettuce tower is a simple, easy to use, efficient, and safe soilless cultivation equipment, which is a very good planting method both indoors and outdoors.