Indoor hydroponic farm is a new type of agricultural production mode. It uses hydroponic technology to plant various vegetables, fruits and other crops in the indoor environment. It does not need soil, but immerses plant roots in nutrient solution to provide nutrition and water for plants through water cycling, so as to achieve crop growth and harvest. This agricultural production method has the advantages of saving resources, increasing yield, and protecting the environment, and is increasingly attracting people's attention and favor.
Indoor hydroponic farm is a kind of indoor Vegetable farming method using hydroponic technology. Ebb and flow table are the most commonly used planting equipment in indoor hydroponic farms, which has the advantage of planting more plants on the same ground area. The ebb and flow table system is widely used in indoor hydroponic farms and has some advantages.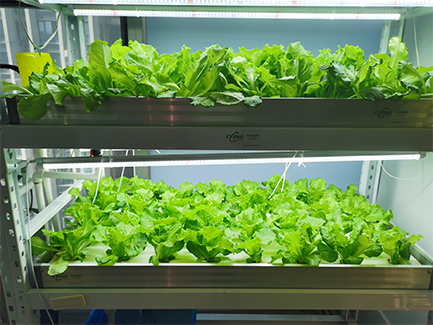 Here are some of its features and advantages:
1. Space saving: Indoor hydroponic farms usually have limited area, and using the EBB and Flow Table hydroponic system can utilize vertical space to plant plants in a vertically stacked manner, thus fully utilizing the limited space.
2. Water and fertilizer conservation: The EBB and flow table system can minimize the waste of water and nutrient solutions to the greatest extent possible. Due to the recyclability of water and nutrient solutions, it not only saves water but also reduces the use of fertilizers.
3. Control environmental conditions: Indoor hydroponic farms can better control environmental factors such as temperature, humidity, light, and gas concentration through the EBB and flow table system, thereby providing the most suitable conditions for plant growth.
4. Improve yield and quality: The ebb and flow table system can provide the ideal growth environment for plants, ensuring that they receive sufficient water and nutrients, thereby improving yield and quality.
5. Prevention and control of pests and diseases: The use of the EBB and Flow Table system on indoor hydroponic farms can effectively control the occurrence of pests and diseases. Due to the absence of soil in the hydroponic system, the breeding environment for bacteria and pests is reduced.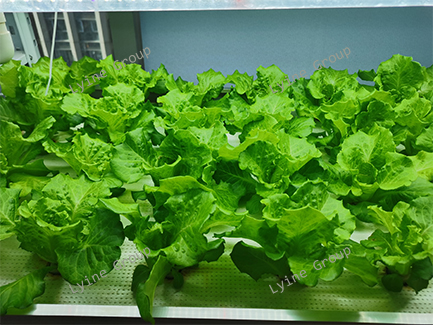 It should be noted that the operation of the ebb and flow table system also requires a certain level of professional knowledge and technical support. Accurate monitoring and adjustment are required to ensure the normal operation of the hydroponic system, the circulation of water and nutrient solutions, and the control of pH and nutrient concentration. In addition, special attention should be paid to the management of pests and diseases in hydroponic plants.
Although indoor hydroponic farms face some challenges in their future development, such as high costs, energy consumption, and technological limitations, with the advancement of technology and the increasing demand for sustainable agriculture, they are expected to be more widely applied and developed in the future.