Hydroponic systems provide an efficient and controlled environment for growing crops such as savoy cabbage. In a flat NFT hydroponic system, the plants are grown in a thin film of nutrient-rich water flowing over a solid growing medium. Here is a planting guide with management techniques for hydroponic savoy cabbage in a flat NFT hydroponic system: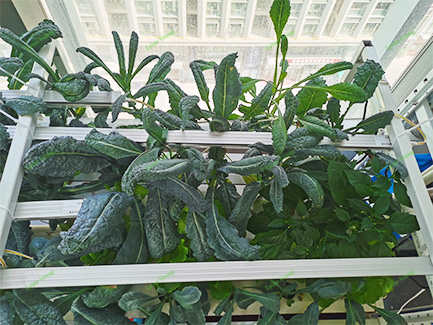 1. Seed selection: Choose high-quality savoy cabbage seeds from a reputable supplier. Opt for disease-resistant varieties to ensure better plant health.
2. Seed propagation: Start the seeds in appropriate growing media such as rockwool cubes or oasis cubes. Soak the cubes in water, allow excess water to drain, and sow one or two seeds per cube. Maintain a temperature of around 70°F (21°C) to promote germination.
3. Germination: Place the cubes in a warm and humid environment with sufficient light. It is recommended to use artificial lighting to ensure proper growth. Maintain a temperature of 70-75°F (21-24°C) and a relative humidity of 70-80% during germination.
4. Transplantation: Once the seedlings have developed two to three true leaves, they are ready for transplantation. Gently remove the seedlings from the propagation cubes and insert them into the NFT channels. Space the plants at least 12 inches apart to allow proper air circulation.
5. Nutrient solution: Prepare a well-balanced nutrient solution suitable for savoy cabbage. Maintain the pH of the nutrient solution between 5.8 and 6.2 for optimal nutrient uptake.
6. Nutrient film flow rate: Set the flow rate of the nutrient film to ensure sufficient moisture and nutrient delivery to the plant roots. The film should cover the roots without flooding them. Adjust the flow rate based on the plant's water requirements and environmental conditions.
7. Lighting: Savoy cabbage requires around 12-16 hours of light per day for optimal growth. Use artificial lighting systems such as LED or fluorescent lights to provide the necessary light intensity and spectrum.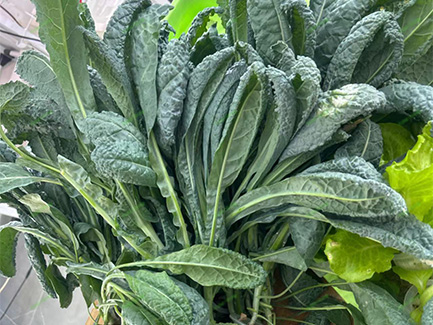 8. Temperature and humidity: Maintain an air temperature of 60-70°F (15-21°C) during the day and a slightly lower temperature at night. Savoy cabbage prefers a relative humidity of 50-70%. Adequate ventilation and airflow are essential to prevent excessive humidity and disease problems.
9. Pest and disease management: Regularly monitor the plants for pests and diseases such as aphids, whiteflies, and powdery mildew. Use organic pest control methods or approved hydroponic pesticides to prevent infestations and maintain plant health.
10. Harvesting: Savoy cabbage typically takes around 85-100 days to mature. Harvest the heads when they reach the desired size and firmness. Cut the heads at the base of the plant using a sharp knife.
By following these management techniques, you can successfully grow hydroponic savoy cabbage in a flat NFT hydroponic system. Remember to regularly monitor the nutrient levels, adjust the pH, and provide adequate lighting and ventilation to ensure healthy plant growth.