As a populous country in Latin America, Mexico attaches great importance to the development of agriculture. The agricultural and food systems in Mexico and other regions also rely on stable weather conditions. Although Mexico is a major agricultural country, its soil degradation is relatively severe. Statistics show that 64% of the country's land has experienced some degree of degradation due to factors such as sustained drought. In other words, agriculture is extremely sensitive to the impact of climate change.
In order to effectively cope with the hazards brought by the weather, greenhouse projects have been initiated in agriculture for a long time. Greenhouses can be considered as an independent ecosystem to a certain extent, which can greatly reduce the harm caused by extreme weather to crops. By combining greenhouses with science and technology, automatic control can also be achieved. Through intelligent devices, crops can be analyzed, ventilated, cooled, irrigated, and fertilized, achieving real-time monitoring by computers through mobile phones. Modern intelligent greenhouses not only liberate hands but also reduce resource waste.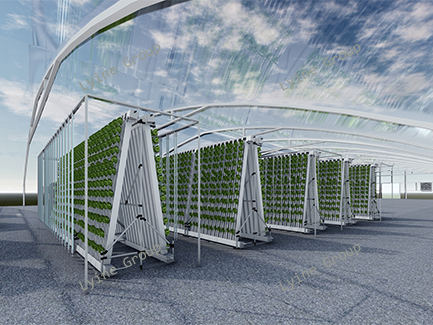 In recent years, with the rise of hydroponic technology, hydroponic planting in modern intelligent greenhouses has become a popular trend. A hydroponic greenhouse can be said to be a large-scale farm that does not rely on soil as its growth medium, and the nutrients required by crops exist in the water circulating in their roots.
The ZIP greenhouse system is equipped with a certain number of ZIP equipment in the greenhouse. The ZIP system has a small footprint, a height of over 4 meters, and high space utilization efficiency, making it suitable for high-yield greenhouse planting needs. And it is equipped with complete automatic waterway structure and LED Grow light.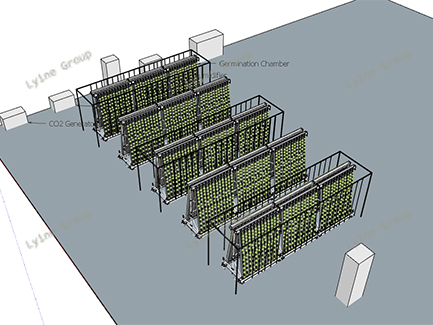 Advantages of ZIP hydroponic greenhouse:
1. It can replace the decreasing amount of agricultural land. Hydroponic greenhouses can be used for large-scale commercial planting operations and areas with limited space. Small indoor hydroponic planting equipment is suitable for vertical systems in living rooms or classrooms. Hydroponic cultivation is widely used. Hydroponics can be used in urban areas where there is almost no land available for cultivation. In addition, farmers in arid Desert climate can use indoor hydroponics to plant all year round.
2. The absence of soil in a hydroponic system means there is no risk of disease or pest, thus avoiding the use of pesticides, which also means that plants are free from pesticide pollution.
The basic principle of hydroponic technology is to replace soil with water and nutrient solution. Due to the lack of soil between the roots of plants and oxygen, water, and nutrients, everything necessary for their healthy growth comes into direct contact with the roots, greatly shortening the growth cycle of hydroponic vegetables. Various green leafy vegetables, tomatoes, cucumbers, and strawberries are suitable for hydroponic systems.