Rain Chan has strict standard and request on the Aeroponic Tower systems, especially for the internal structure and raw materials of the Tower body, and and the related sunlight aging test - to improve this question, we can add the white color with coating UV-400 UV resistant.
Rain Chan wants to find the aeroponic tower with 4 planting holes each tower layer, and totally 28 plants positions.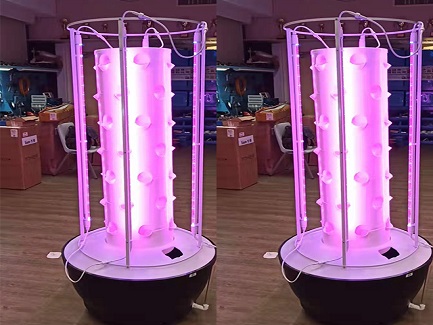 Lyine;s aeroponic tower, there are 6 planting holes each tower layer.Below is the advantages for reference.
1, Food-grade PE injection material of the Tower Layer body. Specialized Patent design of the Tower layer body, the internal TOWER structure is convenient for water storage and drainage, and the water flow/nutrient liquid flow is much more uniform, practical for large scale commercial business.
2, Compared with Pineapple tower, our aeroponic tower can be added with the LED growing light system. Full Spectrum LED growing light system is better for plants/veges growing.
The freight cost of Pineapple columns is low, which is the main reason for choosing pineapple columns for residential use to plant the small veges. The internal hollow structure of Pineapple columns - uneven water flow can not be improved, can not be installed with LED lighting system, the output capacity of Pineapple columns is lower as well caused the high expensive planting cost, which is not practical for large commercial greenhouse project.
3, Timer for water pump - to control the water flowing timely. Individual water system of this aeroponic tower, which can be movable - easy operation for both residential use and large-scale commercial business.
And we also have the hydroponic rotating tower with LED light system added, Can be also added with the Timer for the LED light System to control the lighting time. The rotating tower layer can be made up to 30 layers with 180 planting positions and the complete tower set height 5.5 meters, Maximize space utilization of the Vertical hydroponic plating for large-scale commercial greenhouse/glasshouse project.