Prestige G-Xpace Cloud Kitchens is a real estate company that provides AI IOT integrated smart kitchens for healthy food delivery eCommerce and Mobile App. The building to house the kitchens and unmanned Grocery Store will be ESG complied. Our platform will be all-in-one integration, which include delivery logistics.
Our building will be value-adding with Green, non-toxic, and Sustainable materials and enhance with solar panels. The built-in areas will range between 20,000 to 30,000 sq ft.
Our crafted foods will be healthy for consumption. We will provide plant-based ingredients.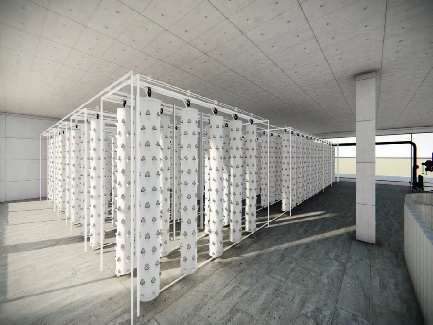 Our unmanned grocery store will be fully automated, and all indoor delivery will be facilitated via autonomous delivery Robots.
Our eCommerce, Mobile App and ERP systems will be seamlessly integrated for both front and back-ends.
Based on the Indoor Vertical Farming as the indoor hydroponic planting factory, the main cost consumption is in professional plant growth lights. For leafy vegetables planting, compared to the water mist column - 4 light rods are needed to fill the light, our patented hydroponic equipment rotating column is more suitable, the unique Rotating function of the rotating column - the crops receive more even light and only need 2 lights Stick it. Microgreen sprouts, our Vertical EBB Flow Table can also be fitted with grow lights.
This Cloud-Kitches Project is in progress of layout design approved well, then finalized all the details of the indoor planting factory in Month July, finished well in Sept-2022.