K2B GENERAL TRADING based in the UAE and focused on the African market.
Mohamed is curious about how to count the output capacity. The 1000kg output capacity hydroponic fodder container machine, there are 450pcs PE85 trays ( tray size 85*40CM) fitting into the 40ft container. PE 85 Tray with size 85*40cm = 0.34 sqm, it can be putting with 1.5-2kg barley seed, growing period 6-7 days, it can harvest 15-18kg fresh fodder.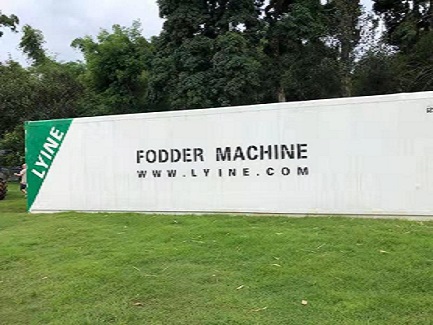 Berseem is a type of fodder which is for cattle feeding. Hydroponic fodder container system is an ideal solution for proving fresh fodder with high protein content, especially suit for any places with harsh growing environment such as land lacking, land barren, desert, very hot & super cool climate.
The fodder will grow from a dry seed to a 18~20 cm plant within 7 days.The system can decrease the feeding cost by up to 60% and further more. Guarantee fresh feed supply 12 months of the year no matter weather.Seeds of wheat, barley, berseem, Alfalfa, rye, corn, sorghum, beans etc are available.
This project is in process going well now. Hope to conclude the order as soon as possible.