Container agriculture is a modern agricultural production mode.
First, it can solve the contradiction between the needs of modern agricultural development and the lack of land resources. It is equipped with the environment needed for the growth of various plants, and can be used with electricity and water, and solves the problems of land scarcity, poor soil, and land ph imbalance.
Secondly, container agriculture is environmentally friendly. It adopts hydroponic method completely and does not need to spray pesticides. It not only protects human health, but also achieves zero pollution to nature. Container farms are used to grow fresh grass such as wheat, barley and corn, and sprouts such as mushrooms and bean sprouts.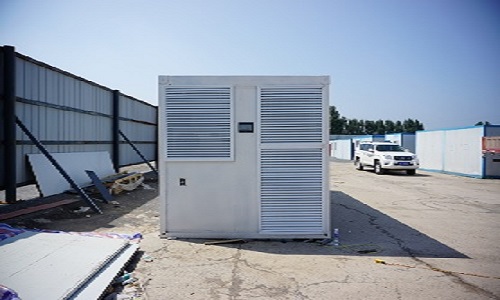 Advantages of container hydroponic forage systems:
1, planting without spraying pesticides, as long as irrigation water. Therefore, the product is green and pollution-free. Usually, it takes 6-7 days for the grass to grow to 20cm high, and the fresh grass can be produced by 1000kg per day, with an annual output of 36500kg per box. The system is in a completely controllable independent environment, not affected by external climatic conditions, so it can ensure the balanced and stable production of pasture throughout the year.
2. Because of its unique advantages of low energy consumption, easy operation, little maintenance and low operating cost, forage grass cultivation system has great application potential and profound environmental significance in the world, especially in areas where grassland is increasingly degraded, land is exhausted, salinization, desertification and cultivated land is scarce and expensive. At the same time, it is the most effective means to make up for the lack of green feed in winter.
3. The overall size of the system is equal to that of standard container, which is convenient for transportation and site utilization.
4, can be customized: can be customized in accordance with customer requirements or on the basis of customer existing housing renovation. It is composed of box body, multi-layer seedling frame and so on. Equipped with intelligent environment control system, temperature control system, humidity control system, water temperature control system, automatic sprinkler system, automatic sterilization system, intelligent ventilation system, automatic light filling system. The intelligent environmental control system automatically collaborates with each system according to the set program and parameters, and can provide real-time data such as temperature, humidity, illumination, and carbon dioxide concentration. Large fixed forage plants can also be set up according to site conditions to meet the needs of large-scale breeding bases.