Canada's cold climate is not conducive to crop growth, so how did it become a major agricultural country in the world? Canada is a vast and sparsely populated country with abundant products and developed agriculture. Although Canada has a high latitude and is close to the Arctic, its agriculture is very developed.
In Canada, agriculture is mainly run by households, which are typical large-scale family farms. The degree of agricultural mechanization is also very high, and almost every Canadian farm is equipped with a complete set of harvesters, tractors, seeders, trucks, and so on. With highly developed agricultural technology, they are also not willing to be outdone in exploring soilless cultivation techniques. Many families try simple hydroponic planting at home.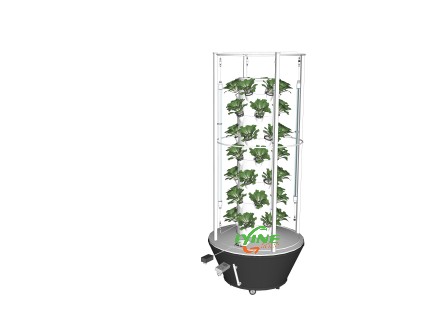 The Aeroponic Tower System is a product that Canadian customers love very much. The most well-known type of soilless cultivation is hydroponic culture. In fact, there are many types of soilless cultivation, and Aeroponic System is one of them. Aeroponics is a new cultivation mode with great growth potential, which can maximize the growth and development potential of woody, herbaceous, and vine plants. Without changing genes, it can achieve rapid growth, high-quality, and high yield in crop cultivation. The plant roots in an aerosol environment are completely in an integrated environment of water, air, and fertilizer, which can fully unleash the growth potential of plants.
The 6p7 Aeroponic Tower System is a very popular small planting tower system. Equipped with water tank, water pump, timer, wheels, planning basketware and planning springs, etc., it has a height of 1.6 meters and a total of 7 layers, with 6 planting holes on each layer. A 6P7 planting tower can plant a total of 42 crops. This size of tower system is very small for indoor planting. There are two types of 6P7 planting towers with and without lights. The tower system with lights is equipped with LED plant growth lights, which can be selected from red, blue, and yellow lighting options, and can be adjusted according to different growth periods of the plants. LED plant growth lights can provide sufficient light for crops and increase crop yield.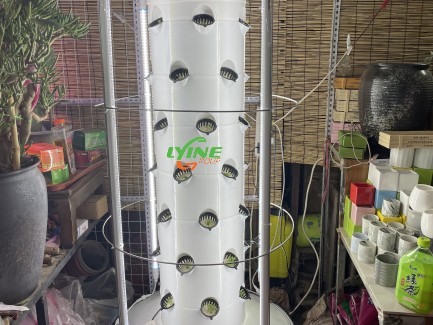 It is an ideal planting method for leafy vegetables such as lettuce, spinach, kale, and cabbage. For example, planting lettuce takes about 50 days from planting to harvesting, while Aeroponic planting greatly enhances the growth potential of lettuce, which can be harvested in only about 26 days. In addition, this type of planting system can fully utilize free space and can be placed on balconies, roofs, greenhouses, and so on. Not only does it save space, but this system is aesthetically pleasing when placed indoors, and the crops grown are pleasing to the eye.
The use of aerosol cultivation technology to develop agriculture is a very correct choice. It is currently a standardized, large-scale, and economically efficient agricultural development method that can be achieved.