Vegetables are one of the essential foods in our daily life. They have high nutritional value and generally contain rich nutrients such as crude fiber, vitamins, and minerals, which can maintain normal human life activities to a certain extent. Due to the high content of crude fiber in vegetables, consuming them in moderation can promote intestinal peristalsis and have a certain effect on improving indigestion and constipation. Vitamins are essential nutrients for maintaining normal physiological functions in the human body. Eating vegetables in moderation can promote metabolism and to some extent enhance the body's immune system.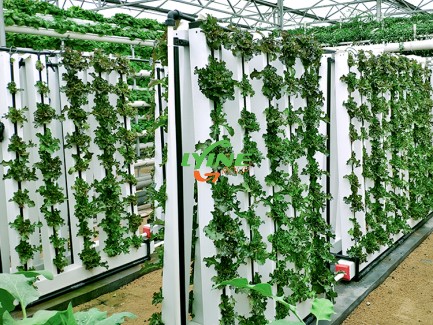 Leaf vegetables are one of the most common vegetables in our daily lives, such as lettuce, spinach, cabbage, water spinach, and so on. Their common feature is that their tender leaves and petioles are edible. Leaf vegetables are the most diverse type of vegetables, containing a large amount of vitamins, carotenoids, cellulose, protein, sugars, and excellent nutrients such as calcium, iron, and potassium, with vitamin C being particularly abundant. Nowadays, hydroponic vegetables are no longer a rarity, as it is common practice for everyone. Today we will introduce the use of a zip tower system for hydroponic cultivation of leafy vegetables.
The Zip tower system is an indoor vertical hydroponic system with high space utilization. Compared to other planting methods, water cycle design can save 90-95% of water. The Zip tower system has two options: single sided zip system and double sided zip system. The single sided zip system is composed of 12 PVC planting pipes, and the size can be customized according to your own needs. This type of system can grow approximately 144 crops. The planting quantity of the double-sided zip system is twice that of the single-sided zip system.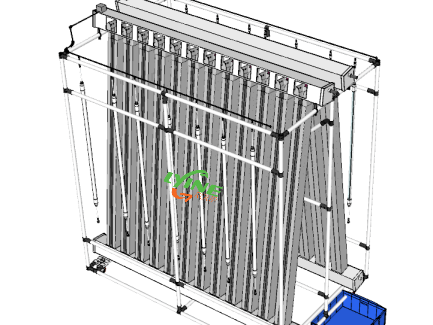 In addition, zip containers farm are also commonly used crop planting systems. In a zip system container with a daily water consumption of 0.45 cubic meters, more than 5000 plants can be planted, equipped with plant growth lights and various control systems, which can help plants grow better and be easily managed. At the bottom of the zip tower system is equipped with movable wheels, making it convenient for growers to move according to their needs and easily control it without requiring huge manpower.
Lettuce is a typical leafy vegetable crop, and many soilless cultivation equipment can be used for lettuce cultivation. The zip tower system is a very suitable choice for growing lettuce. Lettuce can be produced within 50 days on the zip tower system, greatly shortening the planting time compared to traditional planting and harvesting more crops at the same time.
In today's situation where soil and water resources are very scarce, soilless three-dimensional planting equipment is clearly more advantageous, and greenhouse planting, containers, and plant factories are all used. Planting small and medium-sized soilless cultivation equipment indoors is also more popular.