Nowadays, soilless cultivation plays an important role in agricultural cultivation. Not only do some countries with limited water and soil resources adopt soilless cultivation, but many European countries also use soilless cultivation to produce 80-95% of their vegetables and flowers. In the Netherlands, the use of soil cultivation to produce crops has been restricted. They believe that soil cultivation will pollute groundwater, pollute the environment, and soil pollution will in turn pollute the crops produced.
Soilless cultivation is a closed cycle system that is completely controllable. Harmful substances such as growth hormone are not allowed to be used in soilless cultivation systems, and nutrient solutions are recycled and not allowed to be discharged into the environment. So, soilless cultivation can not only produce completely harmless healthy food, but also effectively protect the environment we can tolerate and survive in.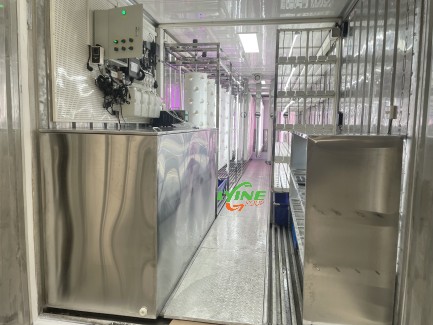 Our domestic soilless cultivation technology also has a long history of development. Conducting plant factory research will become an important way for people to obtain healthy, safe, and stable food in the future. The 'plant factory' has subverted traditional farming methods and conditions. It does not require soil, does not sprinkle pesticides, and is not affected by the natural environment. By simulating factors such as light, temperature, and nutrition required by plants, and comprehensively utilizing digital technology, biotechnology, and equipment technology, it continuously and stably produces plants under fully industrialized conditions, significantly improving production efficiency and resource utilization. "Plant factory" is a specific form of digital agriculture, smart agriculture, precision agriculture and vertical agriculture.
Container farms are a typical representative of plant factories. Containers are a cultivation container for this farm, where there is no soil or sunlight present. Instead, they are replaced by plant-specific LED growth lights and growth systems. We can use water culture or air culture to provide nutrients, and control various environmental factors such as light, humidity, and air required for crop growth through automated control systems to complete planting.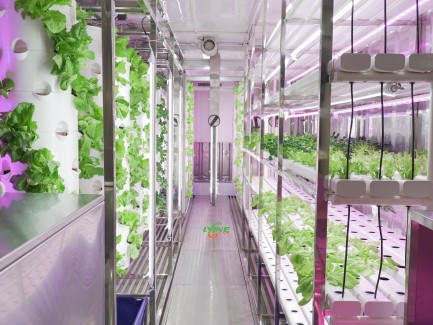 Hydroponics,aeroponics and aquaponic system are commonly used planting systems in container agriculture. With the help of insulated transportation containers, people can achieve year-round production under any climatic conditions.
As is well known, vegetables grown in traditional soil require pesticide spraying, while vegetables grown in container agriculture without soil do not have to worry about pests and diseases, so harmful substance residues can be avoided. In addition, indoor vertical planting saves 90% of water compared to traditional planting, and more crops can be planted per unit area, which can be planted and harvested throughout the year. Therefore, while saving water and soil resources, it can also increase yield. Indoor farms can not only grow various common green leafy vegetables, such as kale, lettuce, cabbage, spinach, coriander, mint, but also herbs.
In summary, although the current widespread application of container farms needs to be improved, overcoming some of the drawbacks brought by traditional agriculture can bring better development directions to agriculture.