Indoor soilless cultivation of vegetables is a very popular planting method, which allows us to enjoy the fun of growing vegetables at home and obtain fresh vegetables. Hydroponic planting refers to a type of planting technique that scientifically and reasonably prepares nutrient solutions based on the proportion and quantity of all nutrients required for normal crop growth, allowing the root system to absorb nutrients in the nutrient solution.
The vast majority of leafy vegetables can be hydroponic, such as lettuce, spinach, Chinese cabbage, kale, etc. These vegetables are commonly eaten by us, so you can also choose to hydroponic at home. We all know that hydroponic cultivation is clean and hygienic, but it also saves land resources. So how to carry out hydroponic cultivation? Is it difficult for beginners to try hydroponic planting?
As long as a suitable hydroponic planting system is selected for planting, it is not a difficult task. It is recommended to choose tower system and NFT system for indoor hydroponic planting.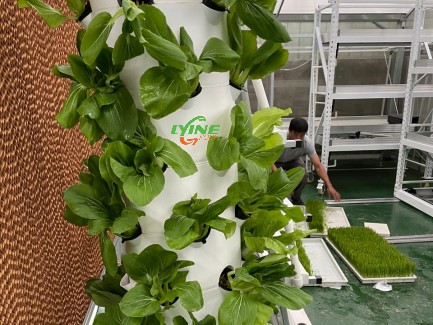 The tower system can be either a hydroponic or an Aeroponic Tower System, with the common advantage of saving space and being suitable for indoor use. The hydroponic tower system is a standard three-dimensional planting equipment, with a tower structure that can plant more crops per unit of land area. The surface of the equipment is equipped with a planting groove that can accommodate crop seedlings, allowing for reasonable planning and planting according to one's own needs. There are also rotating tower systems and suspension tower systems to choose from for this external water tower system.
Aeroponic Tower System is a new type of soilless cultivation method, which uses automated planting equipment to atomize nutrient solutions into small droplets and directly spray them onto plant roots to provide the water and nutrients required for plant growth. Hydroponic cultivation uses less water than traditional agriculture, so air culture is a technique that uses less water. As the roots are suspended in the air, plants receive nutrient solution through spray and absorb oxygen from the air. Planting in aerosol tower can effectively improve the utilization rate of water resources, which is the most economical planting method of water resources in all soilless cultivation.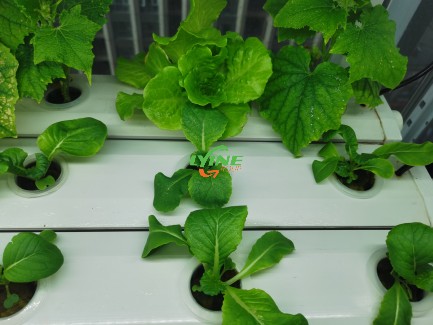 Aerosol cultivation can double crop yield, effectively solve the contradiction of water, air, and nutrient supply that is difficult to solve in traditional soil cultivation, and place crop roots in the most suitable environmental conditions, thereby unleashing the growth potential of crops and allowing them to grow faster and better.
NFT system is also a common hydroponic system. NFT hydroponic systems can be either flat or three-dimensional. If you plant at home, you can choose a three-dimensional NFT system to save space. If you plant in large areas, flat is more suitable.
Vegetables grown using hydroponic techniques are fresh, tender, and juicy, clean and pollution-free. Because vegetables grow in nutrient solutions, there is no heavy metal pollution, and they are completely free from pesticides. Traditional Soil planting vegetables are prone to environmental pollution, resulting in excessive heavy metals and pesticide residues. But hydroponic cultivation does not need to consider pollution issues at all, it can be perfectly comparable to organic vegetables.