In many of the vegetables we consume in our daily lives, leafy vegetables account for a large proportion. Lettuce, spinach, oilseeds, and so on are typical leafy vegetables. With the rise of new agricultural technologies, hydroponic leafy vegetables have gradually entered our vision. For leafy vegetables with high demand but difficult to store, hydroponic cultivation is the most suitable choice.
Indoor hydroponic leafy vegetables are an increasingly popular planting method in modern cities, with the advantage of no soil required, avoiding soil pollution and invasion of pests and diseases. At the same time, water quality and lighting can be adjusted at any time to improve crop yield and quality. In indoor hydroponic planting, the single sided ZIP system has become the preferred planting tool.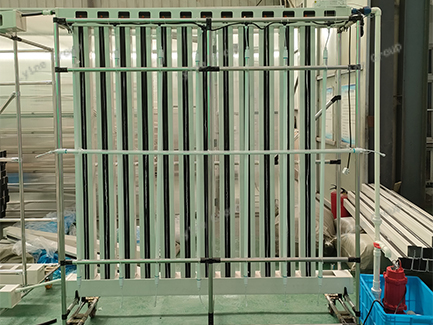 The single sided ZIP system is a vertical planting system that occupies very little space. The single sided ZIP system consists of 12 planting tubes with 144 planting holes, which can meet the vegetable needs of a family when placed indoors. The ZIP system planting tube is usually made of high-quality PVC material, and the crop is fixed with a transplant sponge inside.The filter cotton can ensure that the plant has sufficient nutrient solution and the necessary water for growth.
In the cultivation of indoor hydroponic leafy vegetables, a single side ZIP system can effectively solve a series of problems during crop growth, such as irrigation, ventilation, lighting, etc.
Its main advantages include the following aspects:
1. Efficient and energy-saving
The single sided ZIP system can adjust the irrigation amount and lighting intensity according to the growth needs of crops, thereby avoiding waste of water resources and energy.
2. Space saving
Indoor hydroponic leafy vegetables usually require a large amount of space, while single sided ZIP systems can achieve large-scale planting in limited space. It maximizes the utilization of spatial resources and improves yield and profits through vertical planting and multi-layer stacking.
3. Environmental protection and health
Indoor hydroponic leafy vegetables do not require the use of pesticides and fertilizers, avoiding the problems of pesticide residues and soil pollution, while also ensuring the health and safety of crops. The single sided ZIP system can also achieve environmental protection and sustainable development by recycling water resources and controlling wastewater discharge.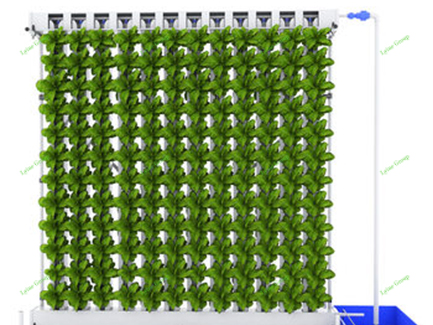 When using the ZIP hydroponic system to grow lettuce, the following points need to be noted. Firstly, the preparation of nutrient solution requires different concentrations of nutrient solution for different stages of growth. Secondly, the control of water temperature is generally appropriate between 20-25 ℃. Finally, pay attention to timely picking. Leaf vegetables have a short growth cycle and can start the next growth cycle after picking.
Hydroponics planting can well meet the needs of our home beautification or Vegetable farming. The single sided ZIP system is an indispensable part of indoor hydroponic leafy vegetable cultivation, providing a more sustainable, environmentally friendly, and efficient solution for agricultural production in modern cities.