With the rapid development of hydroponic planting technology, indoor planting is becoming increasingly widespread. Hydrophobic vegetables have evolved from family balconies to restaurants, and many restaurant owners have started using green and healthy hydroponic planting methods to provide vegetables for their own restaurants. Indoor hydroponic vegetables refer to a planting method in which vegetables are grown indoors using hydroponic methods and hydroponic equipment. This planting method not only allows people to grow vegetables around them, but also greatly improves the quality and yield of vegetables.
In developed agricultural countries such as the Netherlands and Israel, hydroponic greenhouse cultivation has become a health guarantee for the national dining table, allowing for a controllable process from seeds to the dining table. This more intelligent planting method eliminates soil borne diseases and pesticide and fertilizer pollution, and can control nutrient supply from seed to growth, making nutrition more balanced and quality cleaner.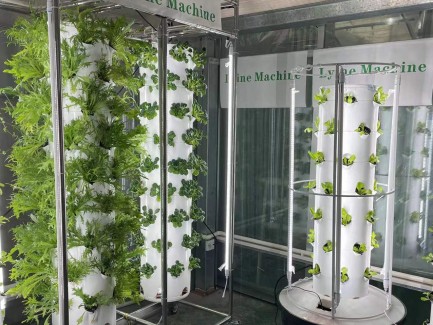 A restaurant specializing in hydroponic vegetables takes only four hours from picking to dining. Fresh fruits and vegetables can be grown all year round, such as sprouts, cream lettuce, kale, and strawberries, tomatoes, etc. Here, not only is it a restaurant, but also a living experience space for urban elites. Customers can enjoy the entire process from seeds to the dining table as farmers, enjoy a quick to eat tongue trip, and bring home personally picked hydroponic vegetables, making hydroponic vegetables a beautiful daily experience on the dining table.
The yield and quality of hydroponic vegetables are much higher than those of traditional soil cultivation, and they are far superior in terms of safety, taste, and quality compared to soil cultivation.
The advantages of hydroponic vegetables in the tower system are as follows:
1. Good quality and taste
Hydroponic vegetables are grown directly through the use of nutrient solutions, resulting in a relatively balanced nutrient supply that is adjusted according to different growth stages. And it is not easily affected by factors such as insect bites and drought, which directly affects the taste and quality of vegetables.
2. High yield
Because the nutrients and water in hydroponic vegetables come from nutrient solutions, the nutrients in vegetables are more abundant, which shortens the growth cycle of vegetables and increases the yield per unit area.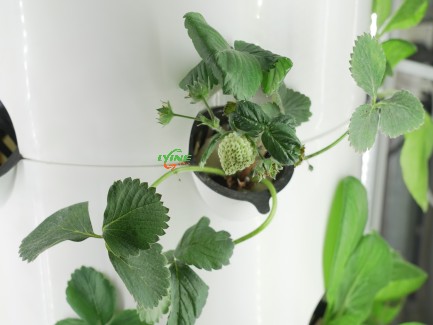 3. Safe and delicious
Hydroponic vegetables are natural, pollution-free, without additives, and without the harm of pesticide residues or fertilizers. The entire growth cycle relies on nutrient solutions to provide nutrients, so hydroponic vegetables taste better and taste better.
4. Small footprint
The tower system is a vertical planting device that can be placed in any suitable space, even without a large planting space.
At present, the population is constantly increasing, but agricultural arable land is constantly shrinking, and safe and pollution-free land is becoming increasingly scarce. How to eat healthy food? Becoming an increasingly important issue for people to pay attention to. The emergence of soilless cultivation technology can now achieve the production of clean food in cities. In the future, planting will not only be achieved in restaurants, but also in different spaces and scenes such as kitchens, basements, roofs, and offices, making dining tables healthier at any time and anywhere.