At present, more and more citizens pay attention to various food safety issues such as pesticide residues in vegetables and growth hormone. The emergence of organic vegetables is an example, but the price of organic vegetables has been high, leading to the market is not very broad. Now "hydroponic vegetables" are attracting more and more attention. Compared with ordinary vegetables, hydroponic vegetables are not only green and pollution-free, but also have a more balanced nutritional composition.Compared with organic vegetables, hydroponic vegetables will have a broader market if they are cheap.
Next, we introduce a vertical hydroponic planting system that is most popular for family planting: hydroponic tower system.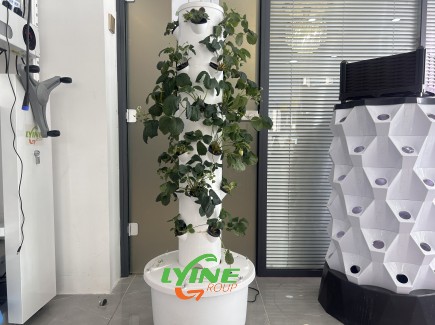 Hydroponic tower system is a vertical planting equipment.Hydroponic tower system can be divided to three main categories,including aeroponic tower,hanging tower, rotating tower.The hydroponic tower system is very suitable for family planting, and has a wide range of applications. Many leafy vegetables can be planted, such as lettuce, spinach, and black cabbage. We use the tower system to grow vegetables.This planting method is automated ,we only need to plug in the power supply and make the tower system power on and water can work.
This vertical Hydroponic System can produce a vegetable tower with high cost performance.
Reason 1: high yield and good quality of vegetables.
The hydroponic nutrient solution contains N, P, K, Ca, Mg, S, Fe, Mn, Cu, Zn, B, Mo plasma chelated nutrient elements required for plant growth in a balanced manner, with slow-release effect and buffering performance, which can effectively provide nutrients required for hydroponic plant growth, and can improve and prevent the symptoms of nutrient deficiency of hydroponic plants.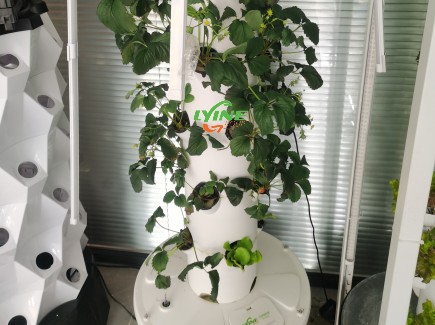 It can replace soil to provide water, fertilizer, air, heat and other growth factors to plants, and can meet the conditions required for hydroponic plant growth.Compared with soil-cultured vegetables, which need to absorb nutrients bit by bit in the soil, hydroponic cultivation can make the whole root of vegetables absorb nutrients directly, which not only grows faster, but also has more nutrition and is healthier.
Reason 2:Simple equipment and low investment cost.
The hydroponic tower system is made of stacked small columns, and a base is set at the bottom to place nutrient solution. The hydroponic tower system is simple and easy to operate. It can be operated only by plugging in the power supply and connecting water and electricity. It is an automatic system. We can plant all kinds of green leafy vegetables and strawberries on it. In short, the planting types are very wide.One equipment can realize the planting of various vegetables, which is very suitable for selecting households with difficulties.Growers can customize different sizes according to their own needs.
I believe you have a simple understanding of the hydroponic tower system through the above introduction. If you have an idea for indoor hydroponics planting, you can consider this.