The tower that can be used indoors and outdoors, and the installation is simple, is the tower system designed by Lyine, which can grow lettuce, strawberries and other fruits and vegetables. There are many types. Let's take a look at the aeroponic tower and the rotating tower.
1. Aeroponic Tower With Light
The aeroponic tower tower with light is a fully automatic soilless cultivation equipment. Its surface is provided with slot holes, and the interior is driven by a small water pump to provide nutrient solution for plants. It can be used for home use as well as for mass production. In addition, plant growth lights are also configured on the basis of the water mist tower, which effectively helps increase vegetable production.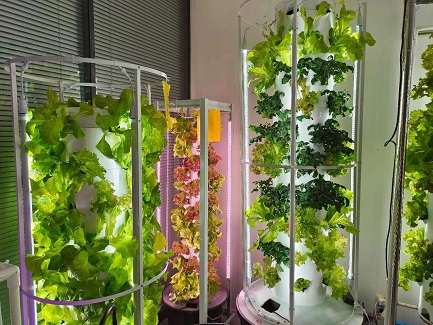 2. Rotating tower
The rotating tower adopts a professional slow-speed rotating motor, which allows the plants to obtain even light during the rotation, and the growth is balanced and has more ornamental value, avoiding the uneven growth of plants due to uneven light reception.
It is very convenient and comfortable to use such a tower for planting at home. Our design and equipment are trustworthy. Welcome to our Lyine Group consultation.