Container farming is very popular in various regions. Many of us are or are planning to start container farming. Before you start, you can learn about the types of container farming we have.
The container agricultural equipment launched by our Lyine Group can grow vegetables, fruits and various plants. Container planting overcomes the problems of extreme weather, pests, limited planting and seasons that traditional agriculture may encounter. The annual water consumption is also one-tenth of traditional agriculture. For the current hydroponic planting, container agriculture will become the trend of future agricultural development direction.
Let's take a look at several container types launched by Lyine Group.
-Hydroponic zip growing system container
The zipper system container is mainly based on the zipper system, and about 5000-9000 vegetables can be planted inside. The interior of the container is equipped with a nutrient solution control system and an LED lighting system, which is very suitable for the growth of leafy vegetables.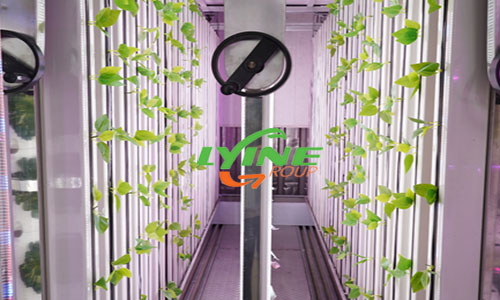 - Hydroponic strawberry gully growing system container
Strawberry gully growing system container are mainly used to plant strawberries, and the equipment inside is mainly strawberry gully. Our strawberry gully are tough , not easy to break, and can be stacked arbitrarily, these advantages make growing strawberries more cost-effective.
In addition to the above two types of containers, we also have tower growing system containers, NFT system containers and EBB system containers. As for which container you will choose for planting, it depends on the crops you plant, and we can also recommend suitable containers for you types to ensure you can't go wrong with your hydroponic growing.