Planting flowers is an interesting and beneficial activity. It not only allows you to appreciate beautiful flowers, but also allows you to acquire some useful skills. More and more people are falling in love with raising flowers, whether it's older retirees or urban office workers who work every day, they all like to keep a pot of flowers at home.
For friends who have planted flowers before, it takes a lot of time and effort to maintain a potted plant well. Soil cultivation, loosening the soil, and fertilizing can easily drive people crazy. If you are not careful, you will cause the ground to be covered all over, requiring regular cleaning. Hydroponic planting is a relatively worry free planting mode. This method of planting potted plants is very good, without the need for specialized soil and potted plants. It can be said to be both clean and convenient.
EBB And Flow Table is a hydroponic planting method designed for nutrient solution cultivation and soilless cultivation of potted plants with bottom water supply. The EBB And Flow Table is particularly suitable for nutrient solution cultivation of potted flowers. It uses bottom irrigation, which brings convenience to planters and saves labor.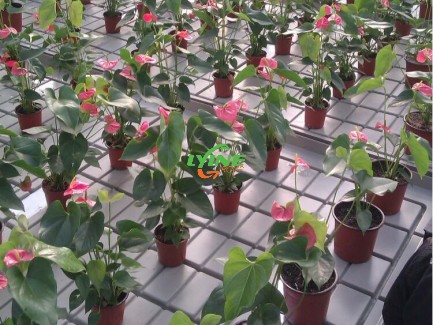 Advantages of EBB And Flow Table:
1. Hot dip galvanized bracket, nut height adjustment for more convenient adjustment;
2. The aluminum alloy edging design wraps the tidal seedbed together, with reinforced patterns on the sides for stronger stability;
3. Tidal panels come in a wide range of sizes and specifications, and there are also high and low levels of panel materials for customers to choose from. Our own panel equipment can open molds at any time and supports customization;
4. The tidal seedling tray has separate trays and splicing pieces, and the length is not limited.
There are two main types of EBB And Flow Tables: vertical seedbeds and track seedbeds. The main advantage of a vertical seedbed is that it increases the effective planting area by 80% and can increase the usable area by 80%. It can be stacked vertically, saving horizontal space.
The track seedbed can be placed in multiple rows side by side, saving space, increasing the usage space of seedlings, better expanding the greenhouse usage space, improving the ground utilization rate, and thus improving production efficiency.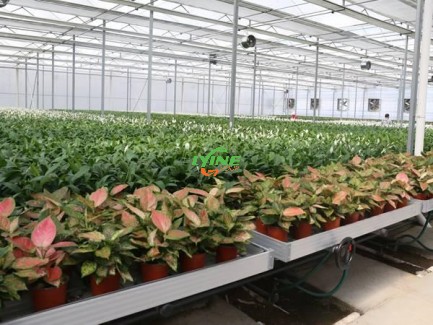 EBB And Flow Table Advantages of Planting Flowers:
1. Effectively reduce the diseases of flowers. Traditional soil cultivation is prone to pests and diseases, while hydroponic cultivation can avoid the invasion of pests and diseases.
2. To improve the quality of flowers, the indoor greenhouse automation system can achieve precise control and improve quality.
3. Production costs are reduced, and indoor hydroponic greenhouses can be automated to reduce labor and save a lot of labor costs.
4. Conserve water and soil resources. The greenhouse is equipped with a water circulation system to limit the amount of water used and minimize waste of water resources. Planting without using soil can also reduce land pollution to a certain extent.
EBB And Flow Table is a mature agricultural irrigation technology that has been widely used in many developed countries, especially with significant results in greenhouse cultivation.