At present, new agricultural technologies are rapidly developing, and soilless cultivation is a typical representative of new agricultural technologies. What are the precautions for soilless cultivation? With the development of science and technology, the promotion of agricultural technology is also constantly expanding; Especially in recent years, the continuous application of soilless cultivation technology has made the technical support for farmers in the planting process more extensive.
In the conventional sense, soil cultivation, as we can see, provides the nutrients needed for crop growth through the soil. The drawbacks of this traditional agriculture are obvious and not suitable for sustainable development. Compared to hydroponic vegetables, hydroponic vegetables have many obvious advantages. In hydroponic cultivation, the roots of plants grow directly in water dissolved in nutrient solution, absorbing water and nutrients from it. Hydroponic seedling cultivation has the advantages of fast growth and high yield. This is because hydroponic cultivation provides better water, fertilizer, and air conditions for the growth of plant roots, and the planting density of hydroponic cultivation is higher than that of soil planting.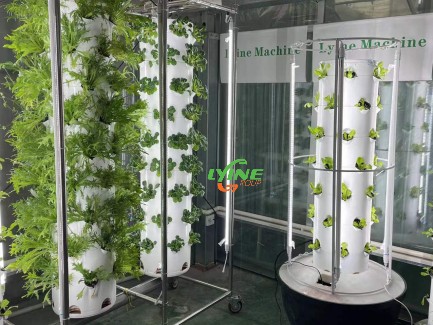 The main advantages of hydroponic are as follows.Firstly, it can prevent or alleviate soil and water pollution caused by continuous cultivation of soil, thereby alleviating the shortage of arable land resources. Secondly, in the process of management, operations such as intercropping, weeding, and soil disinfection are eliminated, which can greatly save labor. Thirdly, due to the ability to meet the requirements of crops for temperature, light, moisture, and nutrients to the maximum extent, the vegetables produced not only have high yield and good quality, but also are clean, fresh, pollution-free, and pollution-free. They are pure green food and can improve the product grade. In addition, due to the recyclability of the nutrient solution used, besides being absorbed by the roots of vegetables and natural evaporation, the water consumption is very low, thus having the advantage of water conservation.
In hydroponic cultivation, the hydroponic tower planting system is a typical representative of vertical agriculture. Vertical agriculture can be said to be a high-tech innovation in agricultural technology. In agricultural cultivation, the hydroponic tower planting system is widely used, and there are many types of vegetables that can be used for planting.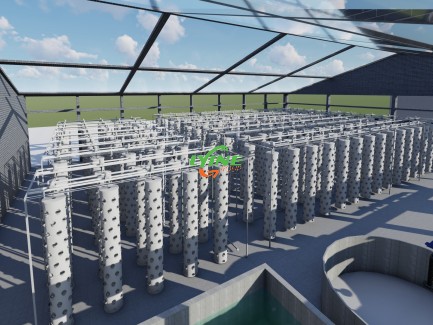 Vertical farm is one of the high-tech agricultural industries that many developed countries attach great importance to. Vertical agriculture is different from traditional outdoor planting, where indoor planting is often chosen. The biggest problem with indoor planting is the planting space. Vertical agriculture increases the number of plants per unit area by vertically stacking multiple planting layers, and then uses LED and other lighting to provide light. Water mist or automatic drip irrigation systems are used to water, achieving high yield throughout the year without environmental factors and control.
Vertical agriculture will not replace traditional agriculture in a short period of time, but in the future wave of agricultural development, vertical agriculture will definitely be the pillar of future agriculture.