Do you feed cows, sheep, horses and other animals? Does your pasture meet the needs of the animals? And will weather and climatic conditions limit your fodder production? If you have any of the problems I mentioned, you may wish to take a look at our technology for growing hydroponic fodder in containers.
Container hydroponic pasture planting is to use containers to grow pasture, using hydroponic technology, in a relatively sealed space, to provide a constant temperature, humidity and bacteria-controlled growth environment for the grass, and to monitor and adjust the growth environment 24 hours a day .At the same time, the three-dimensional integrated control system equipment can maximize the yield in the unit planting area.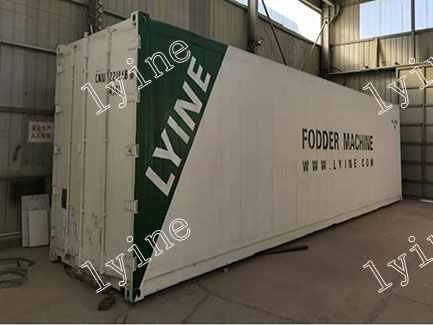 Advantages of growing hydroponic fodder in containers:
1. No assembly required. The container is a turnkey system, we do not need to provide equipment, wires or climate control systems, just simple basic supplies such as water and electricity.
2. The container can be moved and does not need a permanent "position".
3. Can be customized. The size of the container can be customized according to our needs for growing pasture.
4. Automatic and intelligent operation. Using advanced technology, growing forage in containers reduces labor and provides a mold-free environment for grass to grow.
5. It can ensure that the pasture has suitable growth conditions and will not be affected by weather and climate.
We have a customer from the United States who feeds more than a hundred ostriches and a dozen cows. Before buying a pasture container, he used a pallet to grow fresh barley grass to feed the animals, and then he found that after feeding the animals with fresh grass , the health of the animals has become significantly better, and the newborn calves are healthy and strong, which makes the customer want to expand the forage planting. However, because the weather in Florida, USA, where he is located, is too hot, the grass grown in the natural environment cannot grow very high, and it is also prone to germs.
Under such circumstances, this friend used a fodder container with a daily output of 1000KG. He was very satisfied with the growth cycle and output of the fodder, and also increased the number of ostriches to feed, saving time and effort, which was the reason why he initially chose container planting.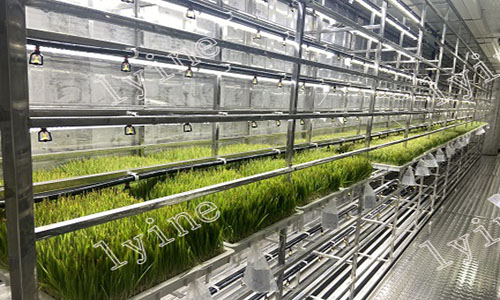 The specifications of our containers include 500KG per day hydroponic fodder containers, 1000KG per day and 1500KG per day hydroponic fodder containers, which are also selected according to our needs. If you have troubles similar to those of American friends, you can try our hydroponic fodder container.